1 Day to go….Aaaaahhh!!!!!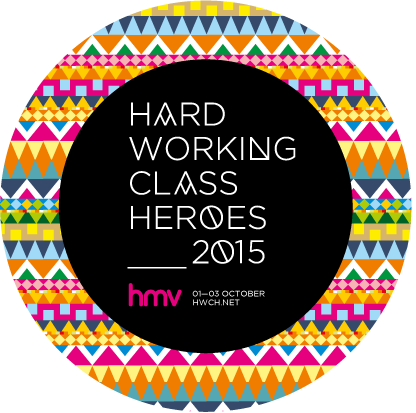 It's almost upon us! We're counting down the days until Hard Working Class Heroes 2015. The festival takes place this Thursday 1, Friday 2, Saturday 3 October and is jammed packed with four exciting elements; HWCH Live, HWCH Tech, the HWCH Convention and HWCH And The City. Round up your mates, book your tickets and get ready to discover some amazing new Irish music in the heart of Dublin city centre!
HWCH Live
HWCH Live takes place in seven of Dublin's best venues and features 103 of Ireland's top new and emerging acts. There will be an epic 3,500 minutes of music across the seven HWCH venues: The Academy 1, The Academy Green Room, The Workmans Club, The Mercantile, Hangar, Bad Bobs and The Grand Social.
Check out the full line-up :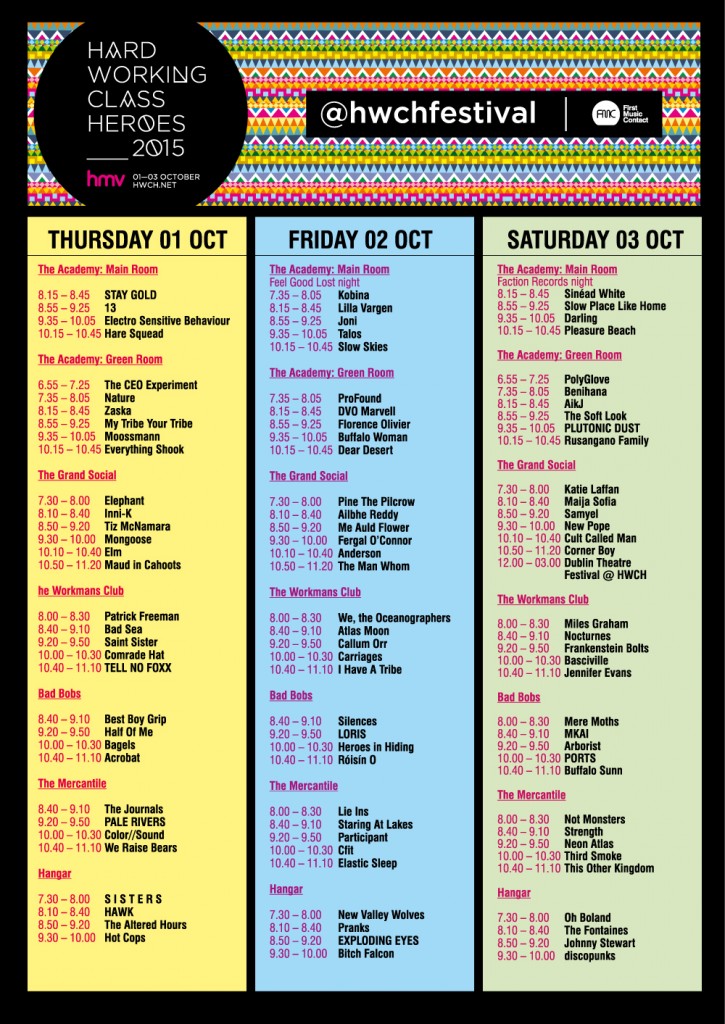 HWCH Convention
The HWCH convention takes place over two days in NDRC at the Digital Hub and is a fantastic networking opportunity for musicians or anyone else in the music business in Ireland. It features some of the best international and Irish figures in the industry from top companies such as Sony Music, Virgin, Warner UK,  Rough Trade & Universal Ireland. See the variety of panels and workshops on offer here.
HWCH And The City
HWCH And The City is a free music trail across Dublin city centre over the three days of the festival with all ages gigs in some of the best and most unique shops, restaurants and coffee shops. HWCH acts will bring Dublin alive with unplugged sets in a number of unconventional performance spaces and give a taster of what's to come at the evening gigs. Map and schedule here.
HWCH Tech
Supporting some of the most innovative music tech companies in Ireland over the last three years, HWCH15 will showcase 5 new tech companies Firstage, Press Record, Muddy, Beatvyne & Cirquit. You can pop into our Box Office over the weekend where all companies will be available to give you a guided tour through their app.
Past tech ALUMNI include Soundwave, Whole World Band, Fan Footage, Gigstarter and more.
Now there's only one thing left for you to do! Buy a ticket. http://hwch.net/index.php/tickets/
Three-day tickets cost €45 + fees while day tickets cost €20 + fees. Buy your tickets online here. Students can buy weekend tickets at our Box Office for a discounted rate (€25 + fees)
Stay up to date with HWCH as it happens:
Twitter: @hwchfestival + #HWCH15
Facebook: www.facebook.com/hardworkingclassheroes